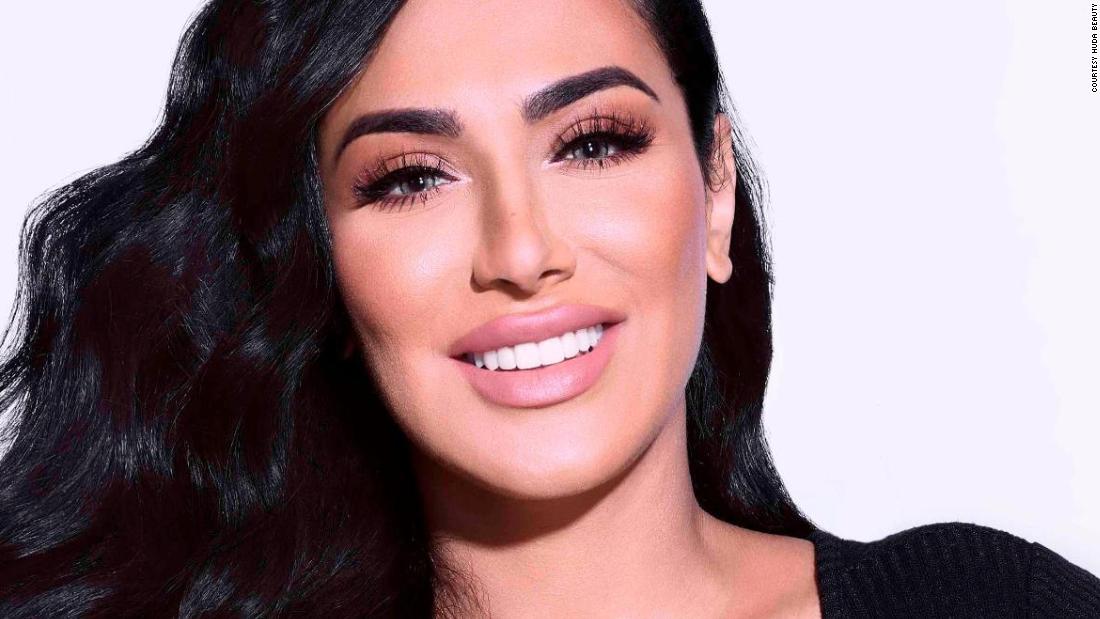 (CNN)Beauty is big business. In Forbes' recent list of "America's Richest Self-Made Women," seven out of 60 made their fortunes in cosmetics and skincare. One of them is Dubai-based makeup mogul Huda Kattan.
The 34-year-old businesswoman, who founded cosmetics brand
Huda Beauty
in 2013, ranked number 37, joining the likes of Oprah Winfrey, Sheryl Sandberg and 20-year-old Kylie Jenner — whose estimated
$900 million
fortune also comes from a beauty empire (one that makes her more than twice as wealthy as big sister Kim Kardashian West).
For Huda, the US-born daughter of Iraqi immigrants, it started with a blog.
"I noticed there were no bloggers that looked like me… nobody that I could look (up) to," Huda tells CNN. Disillusioned with her job in finance, Huda quit to become a makeup artist, and in 2010 she launched her own website with makeup tutorials, skincare routines and beauty hacks.
"Huda is the best kind of success story," says Phillips. "Tenacious, talented, a working mum with a family… (she's) the poster girl for the kind of entrepreneurial spirit we pride ourselves on in the Middle East."
Social media influencers like Huda have had a knock-on effect on the industry. According to the latest report by
Euromonitor
on beauty and personal care in the UAE, they are one of the key reasons for increased spending on cosmetics. Consumers in the UAE spent $228 per capita on beauty products in 2017, up from $168 in 2010, ranking first among surveyed nations in the Middle East and 11th worldwide.
"Consumers are highly engaged towards brands and retailers who have a strong social media presence," says Euromonitor analyst Amna Abbas. According to the report, collaborations between brands and bloggers have become essential in raising awareness of a new products and boosting sales.
But this marketing strategy relies on an internet-savvy audience, which is why Gulf countries are ideal. "Social media in countries such as Saudi Arabia and the UAE continue to be very popular and a platform to express oneself as well as learn how to do things," says Abbas.
Ahmed Pauwels, CEO of Messe Frankfurt Middle East which organizes the
Beautyworld Middle East
trade fair, says the number of expats living in the UAE, especially in Dubai, also helps to fuel the beauty market, since they have "a lot of excess income to spend on the beauty sector."
Over the last ten years, many international brands have set up shop in Dubai, including Sephora, Kiko Milano, Anastasia Beverly Hills, Essence and Nars. As Abbas explains, "the growth of cities like Dubai… has led many brands to make the UAE an entry point to expand into the Middle East."
Culture of beauty
But the cosmetics craze goes deeper than social media trends; it is an intrinsic part of Arab culture. "If you look at the Arabic population, women are very much self-aware and busy with their appearances," says Pauwels.
Nazan Asghar, an up-and-coming beauty blogger in Dubai, attributes her rising popularity to the distinctive "Arab look."
"That's what I'm known for in Dubai," she says. "I do a lot of Arab-inspired looks: heavy eyes, intense glowing cheekbones."
When Asghar started blogging on Instagram, she had a mere 15 followers, all family and friends. Her first post was a picture of her smiling with bronzed cheekbones, glossy lips, thick eyebrows and intensely dark eyes. Most of her makeup styles require a minimum of eight products and take at least 30 minutes to apply, she says.
But this doesn't faze her audience, which has grown to 217,000. "The local ladies have got a lot of money and they believe in makeup," she says. "I feel like I'm in the right area, hitting the right targets."
The Kattan sisters echo the sentiment: the commitment to makeup in the Middle East is quite something. "It's in our DNA," says Mona. "We're excessive. We're never like 'that's too much.' We're like 'add a bit more.' And that's with everything we do: beauty, makeup, food, fashion, everything."
Read more: https://www.cnn.com/2018/07/23/health/huda-kattan-dubai-beauty-boom/index.html